Features

Update 2022/10/25
WTech - Carbon Capture



>



Carbon tech start-Up Air Company launches sustainable aviation fuel made from captured CO2

Suzanne Forcese



Air Company Update

"We fueled the first-ever test flight using 100% unblended sustainable aviation fuel made directly from CO2. This historic flight was powered by AIRMADE™SAF and was conducted in partnership with The Us Air Force."-- Gregory Constantine CEO of Air Company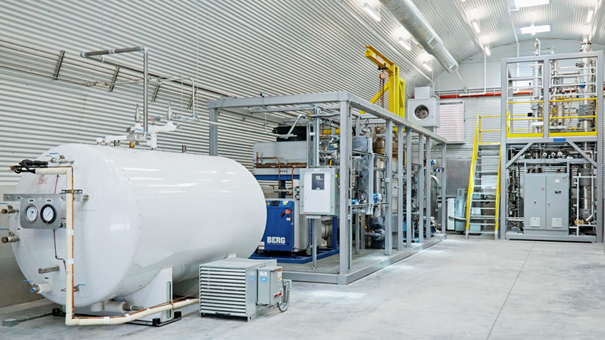 Air Factory O1 in Brooklyn, NY
Carbon Utilization Technology employs a 5-Step Process of Capture, Electrolysis, Conversion, Distillation and Outputs
"Our impurity-free, carbon-negative AIRMADE™ alcohols and alkanes are funnelled into separate totes and are either distributed to our partners or used in our own AIR products. The water that is created is fed back into our electrolyzer to begin the process again." --Photo Courtesy Air Company
Employing the same proprietary technology that mimics photosynthesis to create vodka and perfume, Air Company aims to mitigate CO2 emissions in the aviation industry.
In our continuing conversation with Gregory Constantine, Co-Founder and CEO of Start-up Air Company, WATERTODAY learned more about transforming the world's most abundant pollutant into a never-ending resource for the aviation industry.
WT: Air Company's technology has been hydrogenating CO2 to make vodka. Now you are expanding to make low-carbon jet fuel! Please tell our viewers what the impetus was to take this very bold revolutionary step.
Constantine: The aviation industry is a leading contributor to excess CO2 in our atmosphere. Our planet's most abundant pollutant can be turned into a never-ending resource. Carbon Utilization Technology --is a solution to end society's dependence on fossil fuels and move us toward a more sustainable future.
SAF (Sustainable Aviation Fuel) has always been a major product target for us. We started with AIR Vodka and AIR Eau de Parfum to demonstrate the feasibility of carbon conversion technology and to help our consumers gain a more tangible understanding of how we can convert CO2 into commercial products while also perfecting the technical scale-up.
The process of creating our aviation fuel AIRMADE™ SAF is based on the same principles of our ethanol technology with some nuanced variations to optimize for mass adoption and scale of the specific product. (SAF)
Our patented and proprietary technology imitates the recipe of photosynthesis.
The CO2 we use is captured and sourced from industrial plants prior to being emitted into the atmosphere. We create our own green hydrogen through on-site electrolysis with renewable energy.
Our electrolyzer splits H2O into hydrogen and oxygen. The created oxygen gas is released as clean air into the atmosphere and the hydrogen gas is fed into our carbon conversion reactor with the captured CO2.
Within our reactor, a chemical reaction produces a reactor liquid composed of alcohols, alkanes, and water. Our distillation process separates the components of the reactor liquid.
The impurity-free, carbon-negative outputs are either distributed to our partners or used in our own products. The water that is created is fed back into our electrolyzer to begin the process again.
WT: The United States Air Force recently completed its first-of-a-kind flight with Air Company's 100% unblended CO2-derived jet fuel. Please tell us more. What has this meant for you? Have any commercial airlines come on board?
Constantine: The test flight we did with The U.S. Air Force flight was the first of its kind, flying on 100% CO2-derived SAF. It was instrumental in showcasing the competence of our technology.
In addition to partnering with the USAir Force, we have received agreements for over 1 billion gallons (about 3785410000 L) of AIRMADE™ SAF from partners, including JetBlue, Virgin Atlantic and Boom Supersonic.
WT: What is SAF? How was SAF produced before you developed your process? How is Air Company's process different?
Constantine: Sustainable Aviation Fuel is an alternative means of producing jet fuel without the use of fossil fuels. There are a number of currently approved forms of SAF, all of which are bio-based (cooking oil, animal and agricultural waste, crops) and inherently result in a lower carbon footprint than traditional, fossil fuel-derived jet fuel.
The key difference between our AIRMADE™ and other commercialized SAFs is that we use CO2 as feedstock, which is an infinite resource.
Prior methods of producing synthetic fuel relied on natural gas of the Fischer-Tropsch process, which was developed in 1925 with few fundamental improvements since. Our single-step process will make SAF more cost-effective for widespread use
Not only that, AIRMADE™ is a "drop in fuel", meaning it does not have to be blended with traditional fossil fuel-derived jet fuel to fly an aircraft.
With incredible emissions reduction potential (97%), AIRMADE™ SAF demonstrates a significant opportunity to help decarbonize the aviation industry.
WT: Please tell us about the Pilot-Scale Deployment in Calgary, Alberta.
Constantine: In 2020, we built our second production facility in Calgary, Alberta, which was 10 times the size of our pilot in Brooklyn, NY. Demonstrating its scale, it converts up to one ton per day of CO2 emitted from an adjacent 860 MW natural gas-fired power plant.
We have since relocated this technology to Brooklyn, where it is now housed at our production facility, AIR Factory 01.
WT: Moving forward...What stage are you at now? Are you ready for commercialization?
Constantine: We are planning our next plant for large-scale commercialization right now and have commercial agreements with JetBlue, Virgin Atlantic and Boom Supersonic, among other private customers.