North/West NYS With the Flow
Report for the Week of June 5 to June 11, 2023
Low flows continue
North – West NY Drainage Area

Low Flows

Impaired

Water

Bodies 303d list

Boil Water Advisories

HABs

Hazardous

Spills

Lake Ontario Tribs

1

56

0

1

1

Black River

2

34

0

0

3

Niagara River Lake Erie

5

49

1

2

8

Genesee River

3

23

0

0

4

Oswego River – Finger Lakes

3

40

0

0

8

Totals

14

202

1

3

24
Table updated June 12, 2023

Find your location in one of the five watersheds of the north-west drainage area of NYS to take note of the water bodies upstream and downstream of your location. Impacts to water occurring in this drainage area can impact local residents downstream of the incident site in the same watershed. For incidents involving highly mobile contaminants we expect to see downstream impacts on Lake Erie and/or Lake Ontario, which are sources of drinking water for many northeast USA and Canadian cities and towns.



Lake Ontario Minor Tributaries Watersheds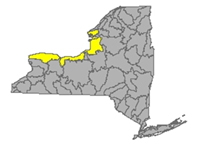 This watershed drains 2460 square miles of northwest New York State, including three sections of north and west NYS: areas that lie between the Niagara, Genesee, Oswego and Black River outlets. This watershed is divided into western, central and eastern sections that stretch all along the Lake Ontario Shoreline, including the Salmon River, Oak Orchard Creek, Irondequoit Creek, Sandy Creek; including Salmon River Reservoir, Sodus Bay, North Pond, Irondequoit Bay and Perch Lake. Flows in this watershed take runoff from most of Jefferson and Orleans Counties, parts of Monroe, Oswego, Wayne and Niagara Counties.

Western Section
Eighteenmile Creek drains an area of 84.8 sq miles in Niagara County. The flow at Burt is unrated, it is often around 100 cfs and 3 ft deep. This station has temperature and conductivity sensors.
Oak Orchard Creek drains an area of 202 sq miles in Orleans County. The flow

near Shelby is unrated, around 270 cfs and 8 ft deep, temp and conductance are taken here
at Kenyonville flow is unrated, around 350 cfs and 2.5 ft deep, with temp and conductance monitors here also
Central Section
Irondequoit Creek drains an area of 142 sq miles in Monroe County. The flow

near Fishers flow is unrated, around 40 cfs and 4.5 ft deep
above Blossom Rd. near Rochester normal flow is around 150 cfs and 3.5 ft deep, conductance is measured here

East Section
Northrup Creek drains an area of 10.1 sq miles in Monroe County. Normal flow at North Greece in Monroe County is around 8 cfs and 1.2 ft deep. Temperature is recorded here.
Sandy Creek drains an area of 137 sq miles in Jefferson County. Normal flow is 1.5 ft deep at around 100 cfs
North Branch Salmon River drains an area of 82.5 sq miles in Oswego County. The flow at Redfield is unrated – we see it around 110 cfs and 1.8 ft deep when nearby monitors are registering normal flows
Salmon River drains 238 sq miles in Oswego County. The flow at Pineville is unrated, we see this station at around 1000 cfs and 10 feet deep



Flows

(1 low)
Irondequoit Creek is flowing much below normal above Blossom Rd near Rochester - down overnight - running 2.81 ft deep and 48 cubic feet per second



Impaired Water Bodies

(56)
56 water bodies appear on the 2022 Draft 303(d) list for Lake Ontario and minor tributaries Watershed, up from six in the last list. Of the 56 total, 38 are affected by a proposed delisting in 2022, in whole or in part. For more details, check out the posted list under the NW tab.



Drinking Water Advisories

(0)



HABs

(1)
North Sandy Pond - widespread lake-wide bloom confirmed in Oswego County - reported by the public June 2



Spills

(1)

June 6 - unknown amount of unknown petroleum reported spilled from Lineage Rolloff oil on State St in Brockport – Monroe
Black River Watershed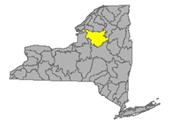 The Black River headwaters begin in the Adirondack mountains, scoop southwest and then curve northwest, the flow proceeds north-northwest, hooks west and empties into Lake Ontario. Major tributaries in the system include Moose River, Beaver River, Independence River and Deer River, Stillwater Reservoir, Fulton Chain of Lakes, Lake Lila and Big Moose Lake. Flows in this watershed take runoff from most of Jefferson and Lewis Counties along with parts of Herkimer, Hamilton, and Oneida Counties.

Black River drains an area of 1864 sq miles of Jefferson County. Normal flow

near Boonville is around 1600 cfs and 6 feet deep (flood stage is 10ft)
at Watertown normal flow is around 7500 cfs and 6 feet deep (flood at 10ft)

Beaver River drains 291 sq miles in Lewis County. Normal flow at Croghan is around 450 cfs and 3.5 ft deep
Independence River drains an area of 88.7 sq miles in Lewis County. Normal flow at Donnatsburgh is around 400 cfs and 4 feet deep, temp is monitored here.



Flows

(2 low)as of June 12, 2023
Black River is flowing

much below normal near Boonville - down overnight - running 4.01 ft deep and 231 cubic feet per second
much below normal at Watertown - up overnight - running 2.74 ft deep and 1210 cubic feet per second
Independence River is flowing much below normal near Donnattsburg - up overnight - running 3.36 ft deep and 42.5 cubic feet per second



Impaired Water Bodies

(34)
34 water bodies appear on the 2022 Draft 303(d) list for Black River Watershed, up from one in the last list. Of the 34 total, 2 are proposed for delisting in 2022, in whole or in part. For more details, check out the posted list under the NE tab.



Drinking Water Advisories

(0)



HABs

(0)



Spills

(3)

June 5 - unknown amount of home heating oil reported spilled at a private residence on Douglas St in Port Leyden – Lewis
June 8 - unknown amount of motor oil reported spilled in the soil due to equipment failure on Austin Rd in Watson – Lewis
June 9 - 95 gallons of diesel reported spilled from Temco Motor vehicle accident on North St in Old Forge – Herkimer



Niagara River/Lake Erie Watershed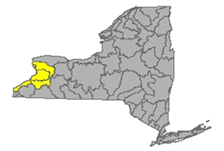 Draining an area encompassing more than 265,000 square miles in the north central United States and south-central Canada, including Tonawanda Creek, Cattaraugus Creek, Buffalo River; Attica Reservoir and Lime Lake. Flows through this watershed drain parts of Niagara, Wyoming and all of Erie County

Tonawanda Creek drains an area of 349 sq miles in Niagara, Genesee and Wyoming Counties

Normal flow at Attica is around 250 cfs and 4 ft deep (flood stage 8ft);
Normal flow at Batavia in Genesee County is around 800 cfs and 4 ft deep (flood stage 9ft);
Normal flow at Rapids is around 1000 cfs and 4 ft deep (flood stage 12ft)

Ellicott Creek drains an area of 82 sq miles in Niagara County. The normal flow at Williamsville is around 200 cfs and 2.5 ft deep (flood stage 8ft).
Cayuga Creek drains an area of 96 sq miles in Erie County. The normal flow at Lancaster is around 200 cfs and 4 ft deep (flood stage 8ft)
Cazenovia Creek drains an area of 135 sq miles in Erie County. The normal flow at Ebenezer is 350 cfs and 3 ft deep. (flood stage 10 ft)
Buffalo Creek drains an area of 142 sq miles in Erie County. The normal flow measured at Gardenville is 400 cfs and 2 ft deep (flood stage 7ft)
Cattaraugus Creek drains an area of 436 sq miles in Erie County. The normal flow at Gowanda is around 1500 cfs and 3 ft deep, (flood stage 10ft) temp and conductance are taken here
Eighteenmile Creek drains an area of 36.6 sq miles in Erie County. The flow

Normal flow at Hamburg is 100 cfs and 3 ft deep
S Branch flow at Bley Rd at Eden Valley is unrated, we have seen this around 80 cfs and 3.5 ft deep

Big Sister Creek drains an area of 48.4 sq miles in Erie County. The flow at Evans Center is unrated, can be around 100 cfs and 3.5 ft deep.
Canadaway Creek drains an area of 32.9 sq miles in Cattaraugus County. The flow at Fredonia is unrated, a common measurement is around 65 cfs and 2.8 ft deep
Chautauqua Creek drains an area of 35 sq miles in Chautauqua County. The flow below Westfield is unrated, it can be around the 80 cfs and 1 ft deep




Flows

(5 low)as of June 12, 2023 Buffalo Creek is flowing low at Gardenville - down overnight - running .57 ft deep and 24.3 cubic feet per second
Cazenovia Creek is flowing much below normal at Ebeneezer - running 2.32 ft deep and 25.6 cubic feet per second
Cayuga Creek is flowing much below normal near Lancaster - running 2.8 ft deep and 8.74 cubic feet per second
Tonawanda Creek is flowing



Boil Water and Do not Consume advisories issued by drinking water facilities for various reasons, short term disruptions due to water main breaks, repairs, loss of pressure are posted here by watershed area. NYS and EPA Region 2 Drinking water facility notices are posted here.

Spills




NYS Spill Hotline: 1-800-457-7362
National Response Center: 1-800-424-8802

Reporting from the latest records uploaded to the NYS Hazardous Spill Incidents database by County each week.

Spills of petroleum products of 40 gallons or more are listed weekly in the watershed in which they occur, citing location of the spill, the contaminant spilled (if known), the quantity (if known) and the resource affected (if known) surface water, groundwater, sewer, etc, and any amount recovered at the site.

Spills over 100 gal, very toxic chemical spills and spills that impact state waters are flagged and followed up with the spiller, the state and/or EPA authorities for more information, these are marked with asterisk.*

See NY Spills Tracker for more information on these spills as it becomes available.

Note: DEC receives upward of sixteen thousand spill reports each year; each report is investigated by qualified personnel. Report files are closed when it is determined the spill is contained and under the control of the spiller or state authorities and a clean up plan is in place or completed.

Sources




WaterToday New York aggregates information and data from New York State Department of Environmental Conservation, Department of Health, Region 2- EPA, USGS, NWS, NOAA by watershed area. The accuracy of the information contained in our reports is dependent on these sources. Provisional data statements apply, confirm data with local authorities before taking action.