Features

Update 2022/6/27
Drinking water




brought to you in part by




Rochester Wins
The Best Tasting Drinking Water in NYS Award 2022


By Suzanne Forcese

WTNY interview with Geoffery Gugal, Director of the City of Rochester Bureau of Water

"The City of Rochester Water Bureau is dedicated to providing all city residents with quality drinking water. The Rochester Water Works has been Keeping Our Water Safe Since 1876. The health and well-being of our neighbors remain a priority and we hope to continue on the path of safe and premiere water for decades to come!"-- Geoffery Gugel, Director City of Rochester Bureau of Water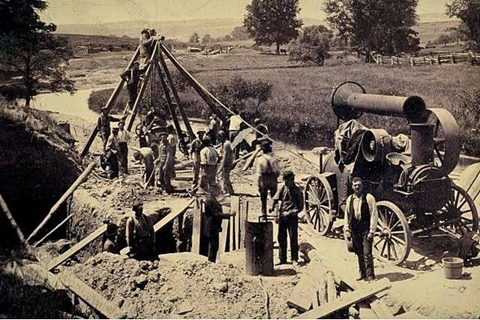 Pipeline Construction Circa 1874
Residents and businesses in Rochester, along with many of their suburban neighbors, are fortunate to be served by a reliable, historic, gravity-fed water system that was built to last. Many of its original reservoirs, mains, and structures have passed the test of time and still serve their intended purposes. For more information on how the distribution systems evolved from the frontier "boom town" days to the state-of-the-art facilities go here for A Pocket History of the Rochester Waterworks
The City of Rochester's current population of 220,000 is served by a water distribution system of approximately 58,000 water service connections, 8,000 hydrants and 18,000 valves and about 570 miles of water mains.
WTNY reached out to Geoffery Gugal, Director of the City of Rochester Bureau of Water, to learn more about New York State's Best Tasting Water and the accomplishment of winning an AWWA Award20 at the Hemlock Water Filtration Plant for the 20th Consecutive year.
WT: Rochester has been recognized by NYS's panel of judges who grade drinking water based on taste, odor, color, clarity, mouthfeel and aftertaste. Congratulations on winning the Best Tasting Water Award for 2022! What is the source of the City of Rochester's drinking water? How many people are served?
Gugel: The Rochester Water Bureau has been delivering quality drinking water from Hemlock and Canadice finger Lakes since 1876 (located 28 miles south of the City of Rochester). Canadice Lake was added to the supplement supply in 1919. Canadice and Hemlock Lake are two of the eleven Finger Lakes.
On a yearly average, the City's Hemlock Lake Filtration Plant is permitted to withdraw 37 million gallons of water per day averaged over the entire year. It's delivered to the residents and businesses in the city of Rochester and wholesaled to the Monroe County Water Authority, the Town of Livonia, Livingston County Water & Sewer Authority as well as the Town and Village of Lima.
The Hemlock and Canadice watershed is over 42,000 acres of which about 7,000 acres is now the Hemlock and Canadice State Forest. Access to the lakes and state forest property is strictly regulated by the New York State Department of Environmental Conservation in the Hemlock and Canadice State Forest Unit Management Plan.
The Water Bureau maintains three finished water storage reservoirs sharing a combined capacity of 230 million gallons, one located in the town of Rush, NY and the other two at beautiful and historic Highland and Cobbs Hill Parks in the City.
WT: The Water Bureau also operates the Holly system – the last municipal, pumped, fire protection system still operating in North America. Tell us about that.
Gugel: Construction began on the Holly fire Prevention System in 1873, the same time construction began on the domestic system. Originally, steam-driven pumps brought Genesee River Water up to high pressure for fire protection in the city's downtown commercial and industrial areas to augment the domestic system capacity. In later years, steam-driven pumps were replaced with diesel fire pumps and electric fire pumps and used domestic water instead of river water. In 1978, a new automated Holly Pump Station was constructed at Brown's Race across the street from the old station and eliminated the need for on-site staff. The Holly High Pressure fire system consists of over 21 miles of water main, 345 fire hydrants and 228 commercial customers.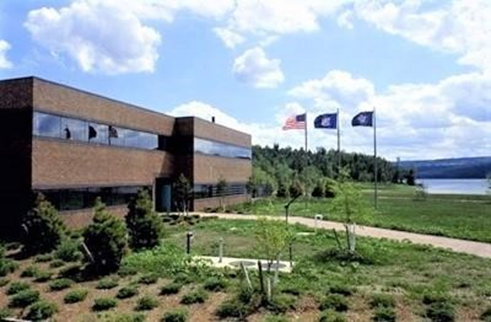 The Hemlock Filtration Plant Has Received the American Water Works Association (AWWA) Partnership for Safe Water Treatment Director's Award for 20 consecutive years. The filtration involves a process of pH adjustment, coagulation, filtration disinfection, and fluoridation. The City uses carbon dioxide for pH adjustment in the range of 7.7-8.0 to ensure water is stable in the distribution system. During coagulation, a coagulant and a coagulant aid are used to help the water particles clump together into the floc which is then filtered out. The 8 identical dual media filters consist of a 3-foot layer of anthracite coal, 1-foot of sand, 1-foot of gravel and a support block. The water is then disinfected with sodium hypochlorite and fluoride is added before the water makes its 30-mile journey to the City of Rochester.
WT: What has it meant to you and your team to have won the AWWA Award for 20 consecutive years? What do you attribute this excellent track record to?
Gugel: The city is extremely proud of this recognition and doesn't take it for granted the governmental function to provide a high-quality, public water system to Rochester residents and businesses such as a local brew master for its mineral content for producing the best beers.
This award requires that treatment plants achieve finished water clarity (turbidity) which is one-third the value of regulatory maximums (0.3 turbidity units) in 95% of all readings measured. Each year the plant submits this performance data to the Partnership along with a narrative updating progress made within the past year, activities performed as well as benefits gained in the process. The report also includes future plans for plant improvements and the schedule for implementation. To qualify for the award, the plant has to maintain a perfect record of regulatory compliance with no notice of violation since the last annual report.We believe the Partnership Program is another way to demonstrate that our Bureau is using Industry best practices to ensure safe drinking water to our customers. It is a great tool to benchmark our practices with other utilities around the country.
WT: Please tell us about the Lead Service Line Replacement Program.
Gugel: Beginning around 1990, city water system grid crews began replacing cityside lead service lines as they were found as opposed to repairing them. The City Water Bureau has had a robust program for Lead Service Line Replacements since 2018.
The city has an overarching plan to complete all lead Service Line Replacements to become Lead-Free by 2030.
These projects are planned in conjunction with street rehabilitation projects and prioritize areas in the City as identified by NYS as disadvantaged communities. Additionally in 2021, the City performed a review of daycare facilities in the City to identify which facilities are served via LSL. We have begun to replace the outside service lines at these daycares completing over 75 to date.
In addition to an aggressive lead service line removal program, the City has also undertaken a comprehensive corrosion control treatment study to further reduce the lead level in drinking water through new treatment. The study is ongoing and should be completed in 2024 or 2025.
WT: Are PFAS and other emerging contaminants of concern issues?
Gugel: NYS has some of the most stringent monitoring requirements for PFOA and PFOS, with maximum contaminant levels set at 10 parts per trillion. Rochester has been monitoring for these compounds since 2017, and to date has never detected them in water from Hemlock and Canadice Lakes. The current EPA-approved analytical methods for these compounds can only reliably detect these compounds down to 2 parts per trillion. EPA set new Interim Health Advisory Levels for /PFOA at 0.004 parts per trillion and 0.02 parts per trillion for PFOS.
These new health advisories are also below the current reliable detection abilities of scientific equipment. Even though we have not detected these compounds in our water using current analytical methods, our priority is to work with EPA and the scientific community to learn more about how to ensure we are minimizing risk to our customers.
WT: Do you have to deal with HABS?
Gugel: Despite the low levels of nutrients and other prevailing factors that influence the growth of cyanobacteria, blooms still occur on Hemlock and Canadice Lakes in the summer months. In response to this, the City developed a comprehensive Cyanotoxin Management Plan in 2019, one of the first such plans in NYS.
As part of this plan, water plant staff follow an aggressive daily program of monitoring the lake for the formation of blooms near the treatment plant, as well as along the entire length of both lakes on a bi-weekly basis.
The City has invested in equipment that can instantaneously quantify the concentration of cyanobacteria cells in the water, as well as laboratory methods that allow for testing cyanotoxins in the Hemlock Laboratory. The plan also outlines all of the treatment steps that our staff take to ensure safe water is delivered to our customers
WT: Tell us about your outreach and education.
Gugel: The City has a proud history of providing educational tours to students of all levels, from elementary through college. All tours include information on watershed stewardship, water conservation and green initiative.
WT: And one last drop...
Gugel: Working within the Water Sector is a truly rewarding career pathway which has unlimited opportunities for training and development. It also holds the satisfaction of knowing you're contributing to bringing this essential resource into the homes and businesses and working within your local community.
No Water, No life!