6/20/2021
General



Nova Scotia community rallies around first low orbit launch site in Canada. Lift-off 2023!


WT Staff

WT – Thanks for doing this Steven.

Matier – I'm glad to, thank you for the invitation.

WT – I have to ask, do people call you Rocket Man when you walk down a hall these days or do they just know what your doing?

Matier – There was an article done a couple years ago that had Rocket Man in the title that sort of took me back. It was about the time that Elton John's movie came out as well. So, yeah.


WT – I wanted to know how did you come to be the CEO of Maritime Launch and how did this rocket even come to exist? I'm just fascinated by this whole story.

Matier – Maritime Launch Services we actually formed in October 2016. The study that predated that, I led from my consultancy. I have an engineering consultancy in the US that was based in New Mexico at the time. I was hired essentially to look for a launch location in North America that could accommodate a launch vehicle that was pretty well finished in many respects by my colleagues in Yuzhnoye and Yuzmash in Ukraine.

I did a study essentially looking at I think a total of 14 locations and went through a big list of pluses and minuses associated with each of the locations. Launch safety being number one any list that I would look at. In those 14 or so locations that I worked through, I ended up identifying this location near Canso, Nova Scotia that was optimal for where the industry is today, where they want to put satellites into orbit, and how safe it is to launch over the ocean versus inland or other locations that might be available out there, and I finalized that site as the choice. Then I continued to do due diligence after that, in early 2017 until March when we made a site selection announcement. So, formalizing that location for us and then of course we started in the environmental review process thereafter.


WT – That's amazing. You talked about Ukrainian Launch systems. Can you talk about that and why Ukrainian, why a Ukrainian system? Everybody looks at Elon doing his rocket thing and how come Ukrainian equipment?

Matier – The government of Ukraine has a space agency that has capabilities within some of these quasi-government owned companies, Yuzhnoye is a design office and Yuzmash is a manufacturing arm. Well they've been in existence since the early 60's. So, you know when you are looking at flight heritage/launch heritage, these are second to no one on the planet, period.


NASA started in the mid-60s with their launches, but they haven't done 675 missions, they haven't put over 500 satellites into orbit, they haven't done the kinds of things that are in the capability of Yuzhnoye and Yuzmash. So, when you look across the landscape today for example, the Antares first stage is built by Yuzhnoye and Yuzmash, designed and built. That's the launch vehicle that goes to the International Space Station. The only difference between our first stage and their first stage for the vehicle is we're using Ukrainian engines not Russian engines. The upper stage for VEGA the propulsion systems for the VEGA launch vehicle is built by them as well. So, they have just two examples of it. But, when you look at the long history of what they are capable of doing, the manufacturing capabilities that are already in place, the skills that are already in place it was an easy decision to make.

When you look at other companies that are trying to do it today in the United States and internationally, they're spending hundreds and hundreds of millions of dollars to try to develop a launch vehicle, a manufacturing process, a launch site all of that kind of stuff in the upwards of a billion dollars, where we've got the most experience in low technical risk capable launch vehicle on the planet frankly, basically in the box and ready to go. So, it was an easy thing for us to decide to do.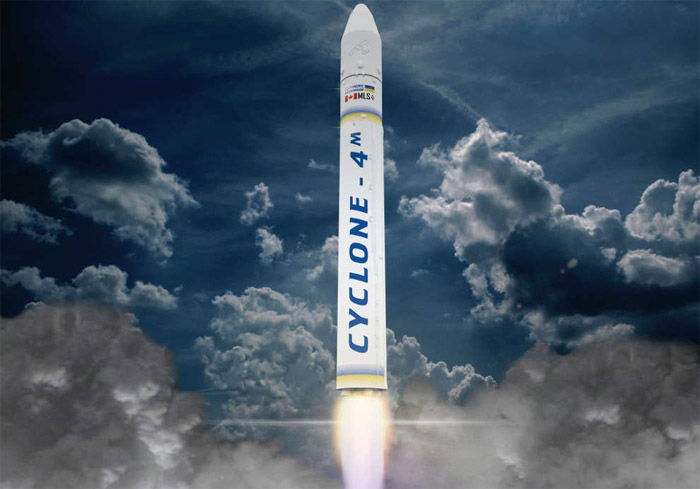 During its first years of operation, Maritime Launch will use the Cyclone-4M to put satellites into low earth orbit. With over 200 successful launches in the Cyclone family, this medium-class rocket can carry a capacity of 3350 kg to Low Earth Orbit (LEO), or up to 5,000 kg to certain lower altitudes and inclinations.

WT – Speaking of billions of dollars can you talk about how someone or how you specifically got this financed. How did the financing work? Usually out here in private sector when we get financed, we have to say, well there's going to be so many returns over this much years, milestones this kind of thing. How much money did you need to raise? Who raised it and how did that break out?

Matier – It's been an incremental process as is the case with any start up. We're continuing to raise money as we speak and we have a fairly reliable road map ahead of us to be able to reach everything, every piece of funding that we need for this. It took a lot of small investments, a lot of personal risk, a lot of sweat equity to get the first few million dollars into this thing such that we could get it de-risked enough that we could get other investors involved. So, we've been successful in doing that in getting this project to a level of de-risk and to the point that were ready to start the site construction later this year. We've had a successful raise here just in the last couple of months, more in the pipeline as we speak. So, we've got a process of this.

What is an interesting thing about this industry that is different from other start ups of this kind is that one doesn't have to wait for the first rocket launch to see revenue. Typically, it's about 18 months before launch that a satellite plant will begin making down payments on the development of the vehicle that's going to put their satellite into orbit. So, there's a payment plan, a typical payment plan that starts 18 months before launch. It's a quarterly payment kind of thing, its all negotiated in real time with these specific clients but that basically speaks to a revenue stream that is 18 months before the satellites are launched into orbit. So, that allows us to do the long lead procurements and get some of those pieces underway but also helps with that attractiveness that you're talking about with respect to a return on investment and a risk associated with getting to the launch.


WT – I saw a press release from the federal government of Canada talking about 10 million dollars I think it was, 9 million dollars something like that. Have you raised a lot more money besides that federal cheque?

Matier – That was not a federal cheque, I don't know where you got that from. We haven't got any federal dollars to date. So that was all a private investment, and we have certainly more than is indicated in the pipeline.


WT – Will you be going public? Everybody is looking at a stock market to buy these days, is that something that you're looking at?

Matier – That is what we're looking at, yes.


WT – How many customers do you have now and what kind of satellites do they want launched? Can you talk a bit about your market? I understand that there's some sort of satellite hole in the North Atlantic, is that accurate?

Matier – I'm not so sure about the phraseology of a "satellite hole" and we're not intending to plug any hole specifically as that implies. What I can tell you is that there are quite a number of satellite clients both with the needs for constellation types of missions, where we are launching multiples of their satellites to aggregating cube sets into ride-shares and other missions that we've got quite a robust list of prospective clients with their letters of intent. Those Letters of intent will mature into launch contracts after we get the groundbreaking completed and we can actually tell them what their launch date is. That's when those softer letters of intent turn into a formal launch contract. It is quite robust the interest of this launch site, for sure.


WT – Speaking of launch sites, how many jobs is this creating in Nova Scotia? I'm always curious, you see all kinds of people on launch pads and towers and this kind of thing. How many folks are you looking to employ through this endeavour?

Matier – Of course, there's the construction phase and building out to a 150-million-dollar facility with the support equipment and the roads and buildings and clean roofs and everything else. Then that will go for about an 18-month time frame while were then starting to ramp up for launch operations. So, the launch operations of course were going to have more peMatieranent staff that are supporting the project. When you look at the site operations there's of course going to be a population for a fire department, security services, general support activities associated with the site operation, technical services for operating the equipment and running the control center. You know, the folks that are actually bringing in their satellites and their staff are going to be there, the folks that are going to be bringing in the launch vehicle and doing the assembly of the stages are going to be there so our population will grow easily to 250 to 300 people for a typical rocket launch and that will start about 6-8 weeks before the launch.

So, there's a permanent staff of probably 120 plus people and then a transient staff that comes in for each launch of about 120 or so. At 8 launches per year, that's essentially a full time equivalent of 250 to 300 people. That does not cover what happens outside the gate, that's just what's inside the fence if you will. Outside the fence of course are all the impacts, associated with where these people are going to stay, how these people are going to get fed, the tourism side of things. They're not going to come here and spend just three days for a launch window, they're going to be here for quite a bit of time beforehand and quite a bit of time afterhand. Then there's the folks that are coming out just to see the launch, so the hundreds if not thousands of emails I've got from people that are coming from across Canada, they are looking for accommodation in the area out there as well, and they're not just going to stay for 2 or 3 days. If you look at the averages of what happens in other locations like in Florida, California launch sites, kind of a 7-to-10-day tour is what is planned by people coming to watch a rocket launch. Stem to stern they are going to be covering every aspect of Atlantic Canada and once they discover the jewel that this place is and what they can explore and do besides just going to that rocket launch.


WT – When someone goes, "Okay I've got a great idea, I want to launch rockets off the east coast of Canada", do you call the government first? How does one get permission to do such a thing?

Matier – We started by going to the community first. I did my desk exercise, and I traveled to the site and identified the optimal location that worked for the market, worked for flight safety, worked for ground safety. Then the next thing on the list is to go work with the community. So, we went up to the municipality, we met with council and we described what were going to do. We met with the guys from the Guysborough County Inshore Fishermens Association and we described what we were going to do. We basically went on a bit of a listening tour asking them about a year in a life and how they operate and how they live, what their days look like, with the lobster season, 31A 31B, May and June time frame for lobster season in that area. 'What do they do the rest of the year', that kind of stuff, right? 'And here's what we do, and do you think you could accommodate us?, so we started to hit the grass roots. Only after we had that basic support from the locals there, they actually held an open house in January of 2017, before we made any site selection announcement, we went and held an open house, we had poster boards out there, we engaged with the community to see whether they were supportive of it, so that's where we began.

Because of that overwhelming support from the community that's what really propelled us to go ahead and move forward with that site selection and with our outreach to the province with the regulators here and with the government here, as well as then the trips to Ottawa to begin working. Transport Canada is one of the regulatory groups that of course oversees the airspace and rocket launch and NAV Canada and those kinds of things. So, that's where we started, basically in the community first.


WT – When do you think first launch is a go?

Matier – Fall of 2023 is our goal. We're working towards the groundbreaking in the fall of this year, if at all possible, in September. But the goal is to get the initial road work started, major construction activities for the buildings will begin in the spring and next year and working towards about 18 months of construction, 6 months of commissioning puts us in a fall time frame of 2023.


WT – That's fantastic. I intend to be there for that launch. I want to congratulate you on a piece of Canadian history and a remarkable story thanks for doing this.