2021/7/14
Watershed Report




With the Flow – NYS Watershed Report for the Week of July 12-19


By Gillian Ward



The Continental Divide, Surface Water Flows of North America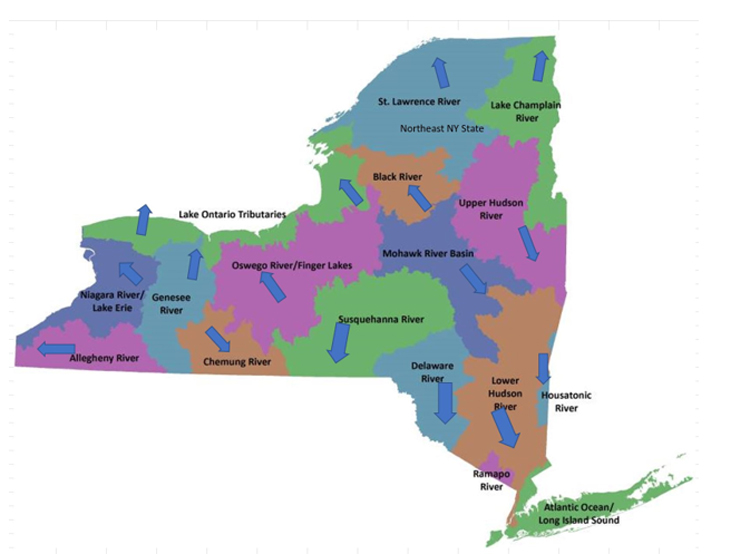 NYS flows begin at high elevation points in the Appalachians, directing snowmelt and rainfall run-off west and north into the Great Lakes/St. Lawrence River, or generally south and east, emptying into the Atlantic via Long Island Sound or further south at Chesapeake Bay.

Northeast Watersheds – empty into Lake Ontario/St. Lawrence River (includes St. Lawrence River Watershed, Lake Champlain River Watershed, Black River Watershed)

Lake Champlain River Watershed – Clinton County Health reports blue green algae in parts of some lakes in the area, check local conditions where you plan to visit on the day of your visit.

Lake Champlain Cyanobacterial Monitoring team plots HABs on their data tracker on-line.

From the Lake Champlain Committee website, the (data tracker) information "can help you understand where cyanobacteria blooms have been reported recently, but it can't tell you what the conditions are currently at your favorite swimming area. This is because bloom conditions can change rapidly, and not all locations are monitored. Everyone should learn what cyanobacteria blooms look like and stay away from them if you think you see one. "

For more information on Lake Champlain Cyanobacteria Monitoring, contact Lori Fisher, Executive Director at (802) 658-1414 or email lcc@lakechamplaincommittee.org.

Spill Report

Accidental releases of petroleum, toxic chemicals, gases, and other hazardous materials occur frequently throughout New York State. Even small releases have the potential to endanger public health and contaminate groundwater, surface water, and soils.

New York State (NYS) responds to reports of petroleum and other hazardous material releases through the Spill Response Program maintained by the NYS Department of Environmental Conservation (DEC). Spill response staff throughout the State investigate such spill reports and take action based on the type of material spilled, the potential environmental damage, and safety risks to the public.

Both immediate response and continued cleanup vary depending on the type of material spilled and the damage caused. Federal and State law require the spiller, or responsible party, to notify government agencies and to contain, clean up, and dispose of any spilled/contaminated material in order to correct any environmental damage.

Clinton County: 5 gal hydraulic oil spilled in County Landfill on Jul 9/21. Record closed.
An unknown amount of an unknown petroleum spilled from a vessel into Lake Champlain on Jul 8, open case.
An unknown amount of gasoline spilled June 24 at a gas station in Plattsburgh remains unresolved.

Essex County:

Five spills this month to date including:

3 gallons of gasoline into Lake George on Jul 9, unresolved
Unknown amount of unknown petroleum spilled to ground at Lake Placid, unresolved
Human error caused a spill of 100 gallons of #2 Fuel Oil, unresolved
Commercial spill of construction material of unknown amount into the Ausable River at Black Brook on Jul 1 remains an open case.
6lbs of hydraulic oil spilled on soil at Lewis, the file remains open.

Black River Watershed

Blac River Watershed filters and drains most of Jefferson and Lewis Counties along with parts of Herkimer, Hamilton and Oneida Counties. Major tributaries in the system include Moose River (872 miles) Beaver River (624 miles) Independence River (207 miles) and Deer River (201 miles), including Stillwater Reservoir (6195 lake/reservoir acres), Fulton Chain of Lakes (4310 acres), Lake Lila (1,414 acres) and Big Moose Lake (11,286 acres).

Nine Element Watershed Management Plan approved by DEC in 2016 to improve water quality by targeting non-point source pollutants.

Contact for Black River Regulating District: (518)465-3491 or email hrao@hrbrrd.ny.gov

There are no HABs reported in the Black River Watershed as of last update, July 9, 2021.

Spills Report

Jefferson County:

Four spills recorded including:

Unknown amount of unknown petroleum spilled at Evans Mills, Jul 8, unresolved
Unknown amount of motor oil and hydraulic oil spilled to ground Jul 7 at LeRay, unresolved
Unknown amount of hydraulic oil spilled to ground Jul 6 at Cape Vincent, closed.
Unknown material spilled into Indian River, Jul 1, resolved Jul 8.
Lewis County

Human error was the cause for 5 gallons of motor oil spilled to ground Jul 3, Lowville, unresolved

St. Lawrence River Watershed - 185 km of the St. Lawrence River catching the runoff from the northern and western Adirondack Mountains, drawing from portions of eight states, a combined area of 5600 square miles.

St. Lawrence Watershed collects the flow from eleven thousand miles of freshwater rivers and streams, including the main lines: Oswegatchie River (3,590 river/stream miles), Raquette River (2,016 miles), Saint Regis River (1,734 miles), Grass River (1,607 miles) and Indian River (1,222 miles, included within the Oswegatchie sub-region watershed).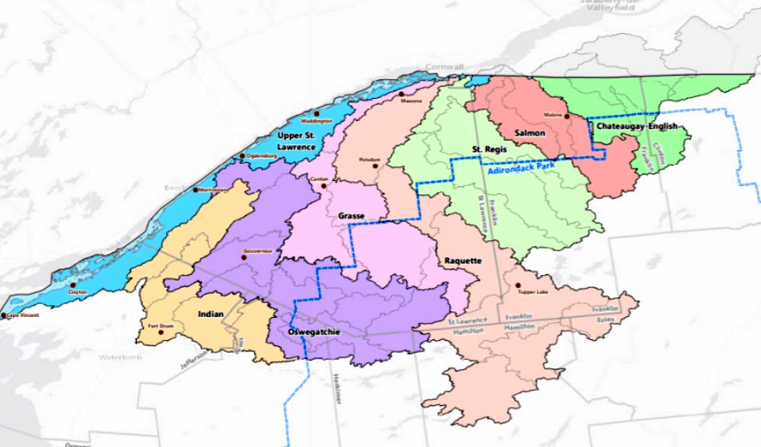 St. Lawrence River Watershed, from Soil and Water Conservation SLRW Plan, Nov 2020

Densely forested woodlands, peatlands and areas of flat agricultural plains make up the natural surface water filtration system of this watershed area.

Recreational Assets

Three hundred and seventy six lakes, ponds, and reservoirs (covering 85,723 acres) includes Black Lake (7,754 lake/reservoir acres), Cranberry Lake (6,795 acres), Raquette Lake (5,194 acres), Tupper Lake (4,858 acres), Long Lake (4,094 acres).

Grass River:
115 miles, from Long Tom Mountain in the Town of Colton to the St. Lawrence River northeast of Massena, this river is popular for fishing and canoeing.

UPSTREAM SECTIONS The Grass River from Degrasse to Pyrites is generally a coldwater river. Stocked brown trout, native brook trout, smallmouth bass can be taken. Access at road crossings, roads along the river and state lands.

DOWNSTREAM SECTIONS From Pyrites down to the St. Lawrence River, the Grass River supports walleye, smallmouth bass, northern pike, brown bullhead, panfish and muskellunge.

A 36-mile section from Canton to Massena is great for beginners canoeing, with a few short portages.

HAB's report – there are no hazardous algae blooms reported in the Grass River area as of July 12, 2021.

Vision of the St. Lawrence River Watershed Plan (Nov 2020) "a sustainable source of clean water, recreation, renewable energy, transportation, and timber and food production."

Water Quality Challenges

According to the 2020 SLRW Plan, just half of the watersheds rivers and streams have been assessed for impairment.

Normal and recurring sources of stream impairment include agriculture nutrient runoff, waste disposal, leaking septic tanks around lakes, and de-icing compounds/salts.

Point-source discharge with permits in the watershed include wastewater discharge sites (95), sewer overflows (33), concentrated animal feeding operations (72).

Legacy industrial pollution released in the watershed goes back fifty years and is presently managed in superfund sites.

Chastity Miller, District Manager of the Franklin County Soil and Water Conservation District, and Chair of St. Lawrence River Watershed project that produced the November 2020 SLR Watershed Plan, spoke to WaterToday New York about ongoing work to remediate legacy pollution.

"The St. Lawrence River Watershed Plan was a collaboration of eight counties Soil and Water Conservation Districts and the St. Regis Mohawk Tribe to prioritize projects and sites within the watershed's subregions", said Miller. NYS Department of State provided funding for the work.

"There are superfund sites in different counties in the watershed", Miller explains, including "a very large one, with contaminants left behind by historical industry in St. Lawrence County. Active remediation is ongoing including biological and ecological studies."

For more information on legacy pollution, see WaterToday New York Investigative report by Cori Marshall.

Spills Report Franklin County:

unknown amount of gasoline was spilled at a commercial site in Saranac on Jul 1/21, unresolved. St. Lawrence County:
a deliberate release of residential raw sewage into St. Lawrence River occurred at Hammond on Jul 12, the case has been closed.
Equipment failure caused the release of 90 gallons of kerosene to groundwater, sewer and soil at a private dwelling in Gouverneur on Jul 8, unresolved. - Housekeeping at 7-11 Convenience in Ogdensburg reports an unknown amount of an unknown substance, unresolved.
An unknown amount of kerosene was spilled at a residence in Parishville Jul 3, unresolved
Equipment failure caused unknown amount of kerosene spilled to ground in Fowler on Jul 1, unresolved.